I'm sitting in the living room of one of my private, in-home training clients, teaching their dog the first steps of "leave-it". The dog is totally getting it, and I hear those oh-so-common words, "You haven't even said anything to him yet!" Oh, but I have! I've been communicating exactly what I want from the dog – through my actions, not my words.
Communication is very different for people and dogs, because we rely heavily on verbal language, and dogs rely almost exclusively on body language. Take a moment to imagine what your dog's world is like when it comes to verbal language. From the moment they come into our lives, we are talking to them, and more significantly, we are talking to each other. Think about how many conversations your dog hears during the day; the discussion with your spouse, the phone conversations with your boss, your favorite TV show. They have to learn that none of those conversations have any significance to them, and it becomes the background noise of life. Then suddenly, we need to address the dog directly, and we get frustrated when they don't listen! We must teach our dogs what words have meaning to them, and when they should pay attention to our words.
While our dogs might learn to ignore our words, they are definitely not ignoring us! If we truly understood how closely our dogs are watching our every move, we would probably be a little creeped out. Try this experiment – Using a cue your dog knows very well, like sit, try asking the dog to "sit" while standing up straight, holding your hands at your sides. Did it work? If so, you've done a nice job of teaching this verbal cue! For most of us, the dog just stands there. Now try using any hand gestures or other body cues you normally give, and don't say the word "sit". I'm willing to bet your dog did it that time! Even when we think the dog knows what a particular word means, they are often looking to our body language to get additional hints as to what will get rewarded.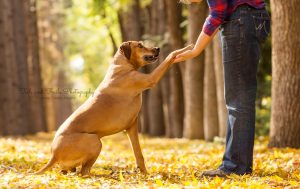 Given that dogs don't always pick up on verbal cues very quickly, wouldn't it make sense to start saying those words right from the start? Well, that can cause a few problems. One risk is that like many of our words, the intended cue will become background noise. Your dog is focusing on what behavior will earn her the treat, not what you are saying. Once the dog learns what behavior earns the treat, then you teach her what word is associated with that behavior. Another issue is that during the teaching process, the behavior doesn't always look like what you want it to in the end. Going back to teaching leave-it, I start by holding a treat in my closed fist, and rewarding the dog every time it moves away from my fist. In the beginning, many dogs will try to mug my hand for the food, licking, chewing, and pawing – none of which I want as part of the final behavior. If I started chanting "leave-it" to the dog as I worked on getting the behavior I want, the dog might think that the cue "leave-it" means "mug my hand for 10 seconds before backing off". I want "leave-it" to mean "look at me when you see the food presented", so I'm not going to say the words until I am at that point in my training.
We can use dogs' tendencies to pick up on physical cues to our advantage. If a dog can read the environment, and determine which behavior is most likely to get rewarded, you don't have to be responsible for telling your dog what to do at all times! For example, you stop and talk to a neighbor while walking your dog. You have been training the dog that every time to stop to talk, you will reward the dog for lying down. The dog learns that the cue to lie down is you stopping in front of another person. Now you don't even have to tell your dog to lie down, and your neighbor thinks your dog is brilliant! If your dog knows hand signals for sit and down, you can communicate what you want him to do while you are on the phone, or watching a really suspenseful movie.
So, when are verbal cues useful? Well, if you plan to compete in certain dog sports, verbal cues are a must. It is also important to be able to communicate what you want when you are in different positions (sitting vs. standing), or when the dog is unable to see your body language directly (walking slightly in front of you on a walk or in another room). I also believe that living with dogs is about compromise, and we are a highly verbal species, so I think it's reasonable to ask dogs to meet us half-way and respond to our verbal cues. This is why it is important to teach our verbal cues carefully, so that we are being fair and consistent in their use. It isn't dogs' primary language, and they are working hard to understand what we want from them. I think one of the most important cues we can teach our dogs is that their name means to attend to you. This is the most straightforward way that we can be clear to our dogs when our words are directed at them, they hear their name, look to you, and then you can direct them further from there.
It's amazing that we do as well as we do, living with this species we can't always communicate with. Often, I'm called in when that communication breaks down. If we take a moment to consider how the dog perceives the world, and spend some time teaching him exactly what we mean when we attempt communication, we can resolve our frustrations with our dogs. This is the key to a harmonious relationship with our favorite canine companions!