Which dogs are most likely to bite you? It's not about breed, it's about behavior! Check out this list to learn which dogs are most likely to bite.
1. A dog who isn't being listened to
Biting is what we call a "distance increasing behavior", meaning that it's purpose is to get the other animal to go away. There is an escalation of behaviors that precede a bite, starting with tensing of the muscles, and may include growling, snarling, and air snapping. If you ignore these early warning signals, you may end up getting bitten!
2. A dog in pain
One of the first rules of Canine CPR and First Aid is learning how to create a muzzle out of whatever you have handy. Even the nicest dog can bite out of pain. If you're not mid-emergency, and your dog bites "out of nowhere", the first step is to get a vet check to rule out any pain the dog may be experiencing.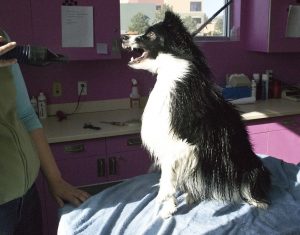 3. A stressed-out dog
Dogs who are experiencing some external stressor may redirect their frustration on another person or dog who is standing nearby. When a dog is really worked up about something, they aren't in the right mind set to be thoughtful, and they can make a poor decision about how to act on that frustration.
4. An occupied dog
Some dogs are very concerned with people taking something away from them. This can manifest with food, bones, toys, or other valuable resources. These dogs must be taught that taking away a resource isn't a reason for defensiveness, but until they have learned that, they are best left alone. Kids, especially, should be taught "When the dog has a bone, leave him alone!"
5. A puppy!
Puppies explore their world with their mouths, plus they are busy growing in new teeth, so it's no surprise that we occasionally get bitten. Puppy biting directed toward human skin should be reducing in frequency and intensity by 4-5 months. Those little puppy teeth hurt, so try redirecting to a toy!
If your dog has displayed any aggressive behaviors, resource guarding, or your puppy's biting is going on way too long, call a professional trainer to help you sort out what is going on.