Dogs Deciphered offers group dog training classes in Fort Collins, Colorado and Loveland, Colorado. We strive to offer innovative specialty classes for owners who want to do more with their dogs. Class sizes are limited to ensure that each dog and handler team gets the individual attention they deserve.
To enroll in any class, email me at megan@dogsdeciphered.com.
NOTE: During the shelter-in-place orders in Colorado, and throughout the US, group classes are on hold. Check out our Virtual Services page to see what online classes I am currently offering.
Currently Offering:
K9 Nose Work®
Classes held at locations in Fort Collins and Loveland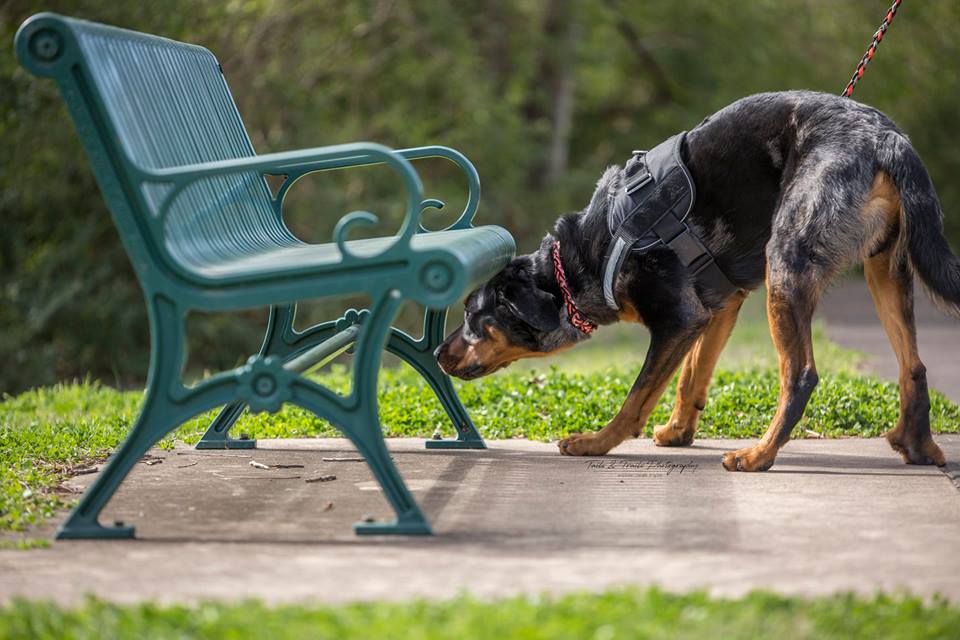 Your dog has an amazing nose, why not put it to good use? K9 Nose Work® was developed by the National Association of Canine Scent Work (NACSW), and the founders long time experience with professional narcotics and explosives scent detection dogs paved the way for an engaging sport for all dogs and their people. The training method is based off professional detection dog training, and is designed to build your dog's hunt drive, and then build value for a target odors. NACSW, as well as several other organizations (UKC, USCSS, AKC, and more) offer Nose/Scent Work trials to test dog's ability to communicate to the handler that they have found one of their target odors.
Nose Work is appropriate for dogs of all ages, I have started puppies as young as 9 weeks, and dogs as old as 13 years! The instinctual nature of the sport reaches all dogs, from the most rambunctious to the shy wallflower. Dogs work individually, so classes are open to dogs who are reactive to other dogs. Accommodations can be made for dogs who are fearful or reactive toward people, and many of these dogs make huge improvements through continued Nose Work.
You and your dog will learn the ins-and-outs of K9 Nose Work through the Intro Series, including building your dog's search skills, learning to read your dog's search behavior, and how competitions work. Each level is 6 weeks, and will cover all the skills needed to join the Masters of Scent class where teams can practice for competition or experience new challenges.
Intro to Nose Work – Dogs will learn the basics of searching for a primary reinforcer – food, or a favorite toy.
Intro to Vehicles and Exteriors – We will expand the dog's search skills to exterior locations, including vehicles searches, both of which are aspects of competition, and challenge your dog's skills.
Intro to Odor – Dogs will learn the value of their target odor, and gain confidence searching for it in a variety of locations, and communication with the handler.
Cost $180.00 per 6 week session
Masters of Scent is a continuing, advanced level Nose Work class for those teams who want increasing challenges, including practice for competition at all levels. Focus will be on handler skills, odor obedience, and team skill building. Instructor approval required, must complete all 3 classes in the Intro Series or equivalent with another instructor.
Advanced Nose Work Drop-ins also available. Email megan@dogsdeciphered.com to be added to the drop-in list.
Dog Parkour Drop-ins
Dog Parkour was derived from the human sport of parkour, developed by the International Dog Parkour Association. These drop-in classes will be held at various parks in Fort Collins and Loveland. Dogs will learn to use their bodies in new ways, explore their environments, and gain confidence!
Prerequisites: Dogs must be able to work in the proximity of other dogs.
If you would like to be added to the drop-in list, email megan@dogsdeciphered.com.
Control Unleashed
Based on the popular book Control Unleashed by Leslie McDevitt, this class teaches over-excited, distracted, and impulsive dogs the skills they need to navigate the world. Through fun exercises modified to the needs of each specific dog in class, dogs will learn to focus on their handlers in distracting situations, while handlers learn how to adapt these exercises to every day life.
Prerequisites: Instructor approval required, please contact me at megan@dogsdeciphered.com if you are interested in this class.
Cost is $200/7 week class.
Therapy Dog Prep
This class is geared toward anyone who has thought about doing therapy work with their dog. We will cover all the behaviors needed to pass any of the major therapy dog certifications, as well as discuss topics including: deciding what kind of therapy work is right for you and your dog, managing stress, and being and advocate for your dog in a therapy setting.
Prerequisites: Dogs must be friendly toward humans, and must have completed a basic level obedience class, or demonstrate the ability to walk nicely on leash and focus on their handler in proximity to other dogs.
Cost $180.00/6 week class. Email megan@dogsdeciphered if you are interested in this class.